Heritage, visit, Castle, Fort dans la Somme
Castles and Monuments

Castles are historic heights-places, they allow to dive back into the universe of the Lords who lived there. Some of these monuments, as fortresses, symbol of power and power, are often marked by the wars of the Middle Ages. Others, as the castles of sailing are much more stylized and testify of the refinement of the Renaissance.
Register your touristic spot dans la Somme it's free (in French)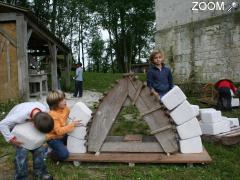 Arche
Place louis Collin
80580 Eaucourt-sur-Somme (Somme)

Low season of 4.5€ to 8€

Average season of 4.5€ to 8€

High season of 4.5€ to 8€

School holidays of 4.5€ to 8€
Aurélien RIES
8 rue du château
80140 Rambures (Somme)
30 minutes from the Bay of Somme, the area of the castle Rambures is to discover all year. Visit the fully furnished interiors, accompanied by a guide is a fantastic journey through time and history ...

M et Mme de Metz
2 rue de Revelles
80480 Creuse (Somme)
Castle in stone from the beginning of the 18th century (listed MH) surrounded by 4 hectares of Park and gardens, in a charming village 13 km from Amiens.
The Castle and the garden are open to the ...

Association de Valloires
Service des Activités Culturelles et Hôtelière
80120 Argoules (Somme)

Register your touristic spot dans la Somme it's free (in French)